Office of the City Treasurer Spins Warped Record
In a press release issued by the Office of the City Treasurer, Treasurer Spencer Coggs alleges that Robert Miranda and "several community activists" issued a false premise news release.
In a March 9, 2016 press release issued by Treasurer Coggs, he accused the writers of KINGFISHmke of implying that Treasurer Coggs was working in collusion with the Mayor's Administration and the Common Council on a plan to resolve the serious cost issue of lead lateral pipes poisoning the water of homes built before 1951. Treasurer Coggs wrote that the writers were responding to an article in a local weekly newspaper.
Treasurer Coggs is wrong to assume this.
Here is that March 9th release: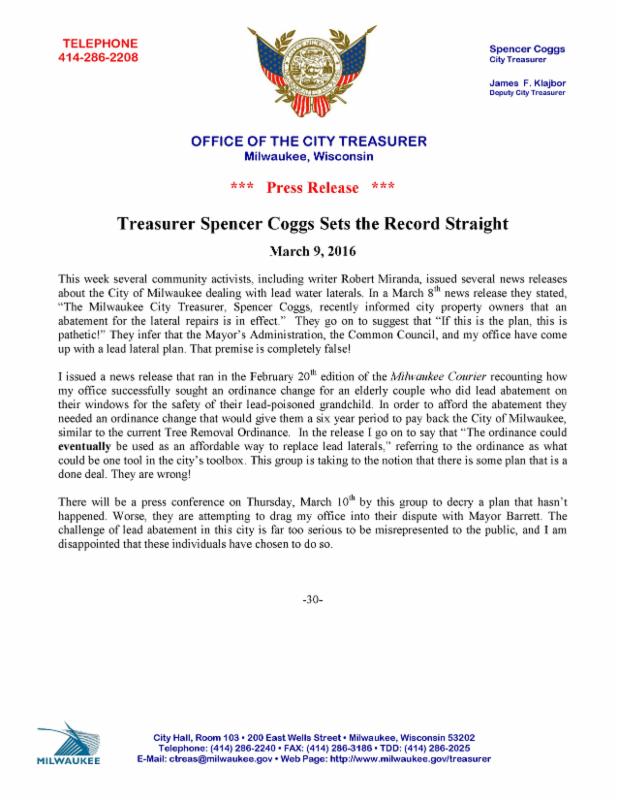 Our statement regarding Treasurer Coggs' plan to help homeowners facing expensive out of pocket costs, removing lead lateral pipes from private property, was based on a press release Treasurer Coggs issued himself, NOT from a article in a local weekly newspaper as Treasurer Coggs has stated.
Below is the press release that our statement was based on:
Treasurer Coggs in that March 9 press release complains that the writers are wrong to state that the Office of the Treasurer put a plan together with the Common Council and the Mayor's office to abate taxes for those houses that remove their lead pipes from their property. Rather than get into a war of interpretations, we have published Treasurer Coggs' March 9 press release and his original undated press release above, and let you read what we believe to be contradictory statements made by Treasurer Coggs.
Did he plan to pass an ordinance dealing with the lead pipe matter with other Milwaukee government departments and the mayor's office, or not? We said he did.
We can appreciate Treasurer Coggs effort to distance himself from the negligence exhibited by the office of the Mayor and the Common Council regarding the lead pipe issue. We understand that the City Treasurer wants no part in being a party to the indifference of this issue by the Mayor and the Common Council against our children. We understand why Treasurer Coggs wishes to avoid being linked to a matter as Alderman Robert Bauman stated has been going on for decades.
KINGFISHmke stated that the idea that tax abatement alone is going to solve the lead pipe crisis in our community is pathetic. We stand by this statement.
The City Treasurer should have sought clarification of our statement before he commented publicly.
To be clear, the city Treasurer pushed to have the Common Council approve an abatement ordinance that would relieve property owners of stress because of having to pay 100% of lead pipe removal from their property in one year to six years.
This ordinance required Common Council approval and support from the Office of the Mayor. It is a tool the city approved to help property owners. It is a tool we find to be absurd and inadequate, faced with the fact that property owners still have to pay 100% out of pocket to remove lead pipes on their property.
The city needs to do more to help homeowners offset the cost for removing lead pipe from their property.
If the Mayor and the Common Council can help New York billionaires offset the cost of construction for a new Bucks sports arena and help offset the cost for construction of a new Northwestern Mutual headquarters downtown, they can surely help taxpaying homeowners of Milwaukee offset the cost to remove lead pipes to provide lead free drinking water for our children.
For more about Milwaukee's looming water crisis tune in to "The Grass is Greener" on Riverwest Radio WXRE 104.1 FM on Saturday, March 19, 2016 at 8:00pm. Riverwestradio.com